Often in a practice like DungeonPig the rules are (at best) completely ignored…
The same sorcerers-referees who have to draft the rules, were so impatient to start playing to decide that "Anything goes in the dungeon!"
You will therefore understand that settling disputes on DungeonPig rules is a nothing short of useless activity.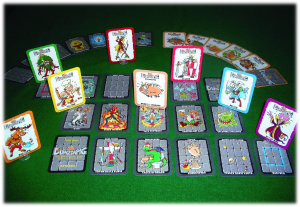 Anyway, if you really want to hurt you, in the DOWNLOAD section you can find the latest updated version of the official DungeonPig rules…
But since we are among friends, we will give a valuable advice too: HAVE FUN! DungeonPig is a light and easy-going game and it's all about "fun"!
If you have doubts on a rule in a particular game situation, find the fastest and most pleasant solution for everyone, or alternatively put it to a vote. And if even in this case you can't reach an agreement, flip a coin! (just check that there is no Sgrinfia Sleighthand nearby …)
Have you seen that among Area Cards there are two "Empty Room" cards and two "Almost Empty Room" cards? If you want, YOU can decide what happens in those areas! Let your imagination (and the Pig within you) run wild!
And if it's still not enough, you can always do a little research on the website to find the most fun House Rules proposed and voted by players!
But now, excuse me… I have to go… The Champions-Pig final is about to begin and my molevision is hibernating… I'll have to go see it in some suburban filthy hovel via PayPerPig…
See you soon… and may the Pig be with you!!!